Basic Block
First things first. Before starting making new clothes, I should alter my basic block a bit as it's been 8 years since I made it. Luckily the sizes aren't that differnt and actually the old one still fits me well.
When you draw a flat pattern, what block you use is very important. Having said that, I never altered it before even when I gained or lost weight… It is a bit annoying yet necessary process to make well fitted clothes, in my opinion.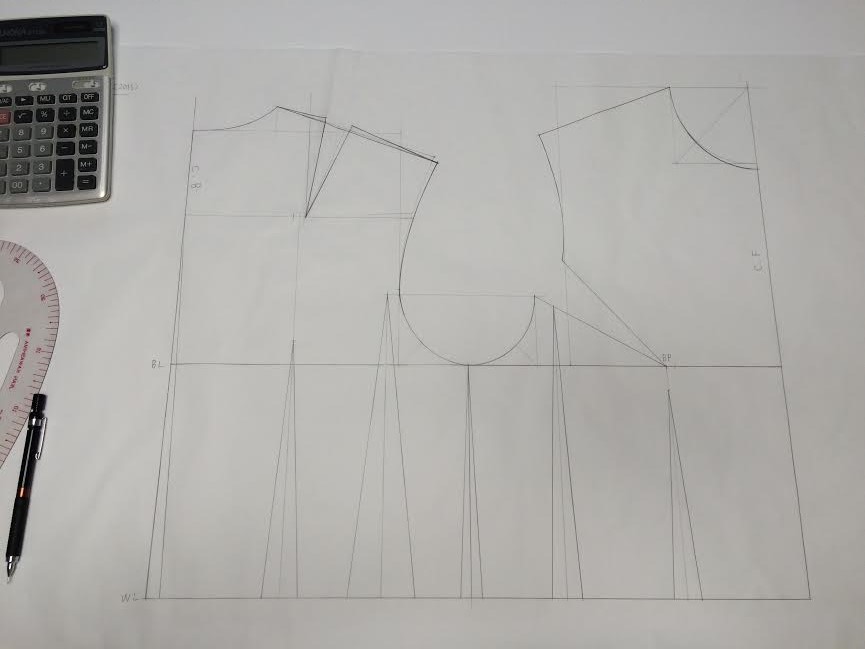 I'm using a method which has been used in my college, Bunka Fashion College, and I'm pretty sure each school or work place has their own. I'd like to know other methods if anyone could share it with me.
I'll omit the process of drawing the block since it is kinda boring and this blog is not meant to be a tutorial. If anyone wants to know how to, just let me know.
まず何よりも先に、新しい服を作り始める前に、私の原型は8年前に作った物なので、少し補正をしなきゃいけない。ラッキーなことに、サイズはそんなに変わっていなくて、古い原型もいまだにちゃんと体に合う。
平面作図をする時には、どの原型を使うかすごく大切になる。そうはいっても、私は太ったり痩せたりした時でさえ今まで原型を補正したことはなかった・・・。体に合った服を作る上で、少しめんどくさいけど必要な作業だと私は思う。
私は、通ってた文化服装学院の原型の描き方を参考にしているけど、他の学校や職場それぞれのやり方、用意された原型があるはず。だれか他の方法も教えてくれるなら、是非知りたい。
原型の描き方はあんまりおもしろくないし、このブログは参考書ではないので、省略。もしだれか知りたければ教えてね。